Crooked teeth can impact your confidence in your appearance and even detract from your oral health. Dr. Roni Berbari and his dedicated team offer both traditional orthodontics and the innovative Invisalign® system to Montreal, Quebec, residents who would like to achieve a straighter, healthier smile. Invisalign® consists of a series of clear, plastic, removable trays that gradually shift your teeth into their proper position. Each successive tray is worn for about two weeks as it gently moves your teeth closer to their improved alignment. If you or a family member wants to pursue orthodontic treatment and would like to learn more about Invisalign® treatment, please contact Montreal Smiles today and make an appointment with Dr. Berbari.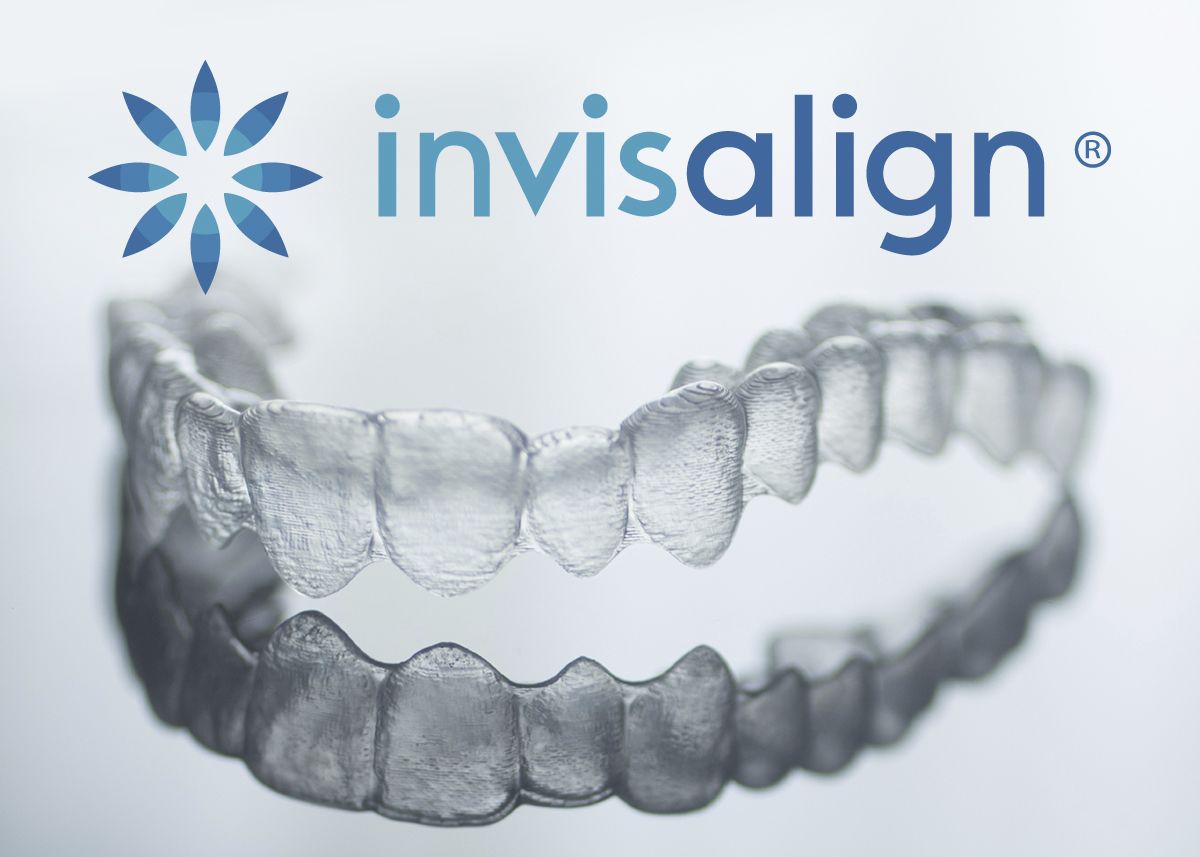 The Benefits of Straighter Teeth
The most apparent benefit of the Invisalign® system is the beautifully aligned smile that you can achieve once you have completed treatment. Your smile is one of the first things that people notice about you, and nothing makes a better impression than straight, evenly spaced teeth.
In addition to the cosmetic benefits of orthodontics, straightening your teeth can profoundly improve your oral health. Crowded, overlapping, or gapped teeth are more difficult to clean at home and provide plenty of hiding spaces for plaque to build up and thrive. Only a professional dental cleaning can remove calcified plaque that builds up between crooked teeth. By evening out the teeth and bringing them into their proper alignment, your at-home dental hygiene routine of brushing and flossing will become far more effective at controlling plaque. Over time, this will reduce your risk for tooth decay and gum disease.
Conditions that Invisalign® Can Treat
Invisalign® can be used to treat a wide range of concerns related to misalignment. It is important to remember that for patients who suffer from severe alignment issues, oral surgery may be required to restore health and function to your bite. In general however, many issues that can be treated with traditional orthodontics can also be addressed with Invisalign®:
Overbite - This condition occurs when the upper row of teeth extend well beyond the lower arch. This condition can cause excessive wear to your teeth and the development of temporomandibular joint (TMJ) disorder from an unbalanced bite.
Underbite - An underbite occurs when the upper teeth bite down behind the lower set of teeth, causing the appearance of the lower jaw jutting out excessively. This condition can result in many of the same problems related to an unbalanced bite that are caused by an overbite.
Open bite - When the jaw develops in such a way that some of the top teeth do not come into contact with the bottom teeth when the mouth is closed, it is referred to as an open bite. This bite issue can cause speech impairments, make chewing difficult, and contribute to TMJ disorder.
Cross bite - Cross bite is characterized by teeth that are closer to the cheek or the tongue than the corresponding tooth on the opposite jaw. This can result in uneven wear on the teeth and exacerbate TMJ disorder.
Gapped teeth - Teeth that have excessive space between them can impacts the aesthetics of a smile, and also provide an ideal place for bacteria to collect and multiply.
Crowded teeth - Like gapped teeth, overcrowding within your mouth can significantly affect your smile's appearance. Crowded teeth can be extremely difficult to clean, especially in between the teeth, allowing plaque to build up and increase your risk of developing periodontal disease.
Invisalign® Options for Teens and Adults
Although we offer traditional orthodontics, many of our patients prefer not to wear metal braces. Invisalign® clear aligners provide an excellent alternative for patients who want to straighten their teeth more discreetly. When you choose Invisalign®, you can expect:
To have fewer return visits to the office, as Invisalign® trays do not require periodic adjustment and tightening appointments like traditional metal braces
A more comfortable treatment, as the smooth aligner surface will not irritate your gums or inner cheeks
Brushing and flossing to be no more difficult than before, since the mouthpieces can be removed for cleaning
No dietary restrictions, as the aligners can be removed at mealtimes
In addition to Invisalign® for adults, we also offer Invisalign® Teen. Using the same advanced technology and comfortable, removable aligners, Invisalign® Teen offers two additional features that are beneficial for young adult patients. First, Invisalign® Teen aligners have compliance indicators that allow parents and the dentist to see whether the aligner is being worn properly. Second, Invisalign® Teen will replace up to six aligners if they become lost.
What to Expect from Invisalign® Treatment
During your evaluation, Dr. Berbari will provide you with a digital representation of what you can expect your smile to look like after you have completed treatment. If Dr. Berbari determines you are a suitable candidate for Invisalign® treatment, he will take careful measurements of your bite that will be used to design your custom-fitted aligners. This information will be sent to an Invisalign® lab where they will create your alignment trays and send them back to our office.
Once you receive your first set of aligners, Dr. Berbari will discuss proper usage, cleaning techniques, and other vital information that will help to ensure a successful treatment. You will need to wear your aligners for 20 to 22 hours a day, removing them only for eating and cleaning. Dr. Berbari will provide you with a special cleaning kit that will help to keep your aligners fresh. You do not have to restrict your diet, but you should limit between-meal snacks to ensure optimal oral health. You can expect to change aligners every two weeks, or as recommended in your treatment plan.
During the course of your treatment, patients can typically expect to come back into our office every six weeks so that Dr. Berbari can monitor your progress and make any necessary adjustments to your treatment plan. When you have completed the therapy, you should wear your final mouthpiece as a retainer while you sleep to maintain your new smile. Many Invisalign® patients choose to undergo in-office laser teeth whitening to highlight their improved appearance.
Invisalign® Treatment Results
After the treatment period is complete, you will be able to enjoy your straighter, more uniform smile. Patients are generally very happy with their results. They often comment on the enhanced self-confidence that they experience immediately following treatment. Feeling confident enough to share your smile with the world is something that many people take for granted. However, for Invisalign® patients, the newfound ability to smile proudly in any situation can be life-changing.
In addition to the aesthetic benefits, your aligned teeth will be easier to maintain at home with proper brushing and flossing habits. Crooked or overcrowded teeth can be extremely difficult to keep clean because hidden crevices make it nearly impossible to remove plaque buildup. In this way, Invisalign® can preserve your oral health for years to come.
Learn More During a Consultation
To learn whether Invisalign® is right for you or your teen, please contact Montreal Smiles today. We would welcome the opportunity to help you achieve the straighter, healthier smile you deserve.