Pros and Cons of Invisalign vs. Braces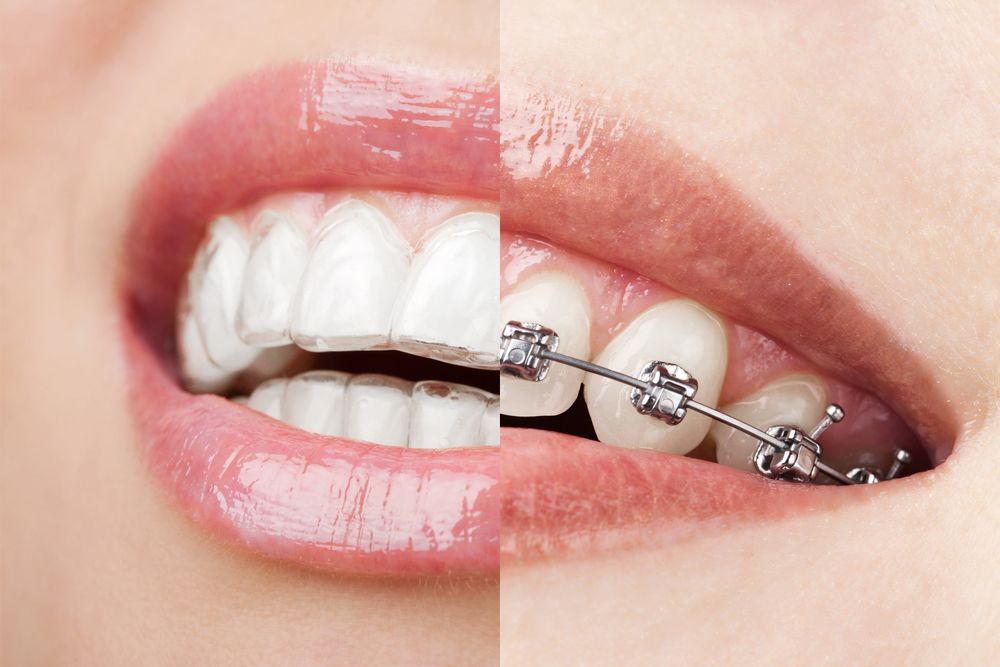 Individuals who want a straighter smile have several different options. Many of our Montreal, QC, patients ask us if braces are better than Invisalign®. Invisalign can correct most of the same orthodontic conditions as traditional metal braces. And those who opt for clear aligner therapy can enjoy discreet treatment and still eat all of their favorite foods.
Dr. Roni Berbari offers Invisalign at our family dental practice. Here, our team at Montreal Smiles explore the pros and cons of Invisalign vs. braces and reviews the pros and cons of each orthodontic treatment.
About Braces
Traditional braces have been used for decades. Before clear aligners came along, they were the go-to treatment option for a straighter, more attractive smile. Braces consist of stainless steel components – bands, brackets, and wires – that gradually move the teeth into their favorable locations.
Pros of Braces
Since braces are time-tested, they remain a popular orthodontic option. Traditional braces treat a wide range of malocclusion issues, including severe or complex cases. Braces can be used as a standalone treatment, or they may be used in conjunction with other procedures, such as corrective jaw surgery.
Cons of Braces
The metal color of braces does not blend in with your natural teeth, so others will know you are undergoing orthodontic treatment. This is not a concern for some patients, but many individuals prefer more discreet options. Braces can irritate the lips, cheeks, and tongue. Also, patients who wear braces must see their dentist every four weeks for adjustments.
About Invisalign
Invisalign was the first clear aligner system to hit the market, in 1997. The teeth are moved by a series of clear, removable trays instead of metal components. Our Montreal patients wear each set of aligners for about two to three weeks, then replace them with the next set in the sequence.
Pros of Invisalign
The most popular benefit of Invisalign is that it is discreet. Since the trays are clear, they are not noticeable. And because they are removable, individuals can still brush, floss, and eat normally. Invisalign also takes about the same amount of time as conventional braces. Patients still need to visit their dentist during treatment, but appointments are only necessary about once every six weeks.
Cons of Invisalign
To be effective, your clear aligners must be worn at least 22 hours every day. If you fail to wear them as directed, treatment can be negatively impacted. In addition, some patients must wear attachments with their clear aligners to help move the teeth into position. These attachments are tooth-colored, but may still make Invisalign slightly more noticeable. Lastly, cost is a concern for some Montreal patients. While Invisalign is comparable in cost to braces, some cases may be more expensive.
Contact Us to Schedule a Consultation
If you desire a straighter, healthier, more attractive smile, Invisalign could be the solution for you. To learn more about this option, as well as the other services we offer at Montreal Smiles, schedule a consultation at our practice. Contact us online or call our office at (514) 733-3933.
Related to This