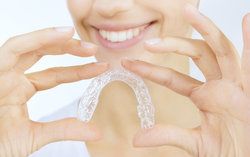 When your teeth need protection against potential trauma or daily wear and tear, mouth guards are an effective treatment option. At Montreal Smiles, we know that using a mouth guard can be a strong safeguard against the need for restorative dentistry procedures. Roni S. Berbari, DMD and his capable staff are proud to offer custom molded mouth guards that offer the best fit, comfort, and protection available. But is a custom mouth guard right for you?
Why Wear a Mouth Guard?
Why would you have a use for a mouth guard? Anyone whose teeth are at risk for injury or excessive wear and tear can benefit from a mouth guard, which will keep their teeth in good health and maintain their structural integrity.
Sports - If you or your children play sports, a mouth guard can be a valuable investment. Many sports, especially high impact contact sports, come with a risk of injury. Athletes involved in high risk sports like football, hockey, and soccer are at a higher risk of tooth loss and serious dental trauma. But a mouth guard can offer significant protection against this kind of damage, preventing teeth from crashing and breaking against each other while absorbing the shock of hard impact. A custom mouth guard, molded to fit perfectly against your teeth with no extra room for movement, may offer you best possible protection against dental injury.
Bruxism - Unlike contact sports, bruxism may not traumatically injure a tooth overnight. But given enough time, chronic teeth grinding can wreak havoc on an otherwise healthy mouth and jaw. Teeth grinding can easily wear away at the surface of your teeth, creating cracks and chips that can ultimately progress into full breakage and lead to the overall loss of one or more teeth. In addition, bruxism can also cause peripheral problems like migraine headaches, jaw pain, and even temporomandibular joint (TMJ) disorder. By keeping a soft barrier between your upper and lower teeth to reduce constant pressure and friction, a mouth guard can protect against this damage.
TMJ disorder - TMJ disorder results in jaw pain, a clicking sound when opening and closing the jaw, headaches, tooth pain, and a range of other unpleasant symptoms. A mouth guard can be worn nightly to keep the temporomandibular joints in their proper position, reducing the symptoms of TMJ disorder.
Talk to Your Dentist about Custom Mouth Guard Uses
An ounce of prevention is worth a pound of cure, and the preventative nature of a custom mouth guard goes a long way toward preventing serious and long lasting damage in the future. A high quality custom mouth guard will stay in place while you sleep and during contact sports, ensuring that your teeth are protected.
But if you're still not sure if a mouth guard is right for you, don't hesitate to reach out and share any questions or concerns. Contact our dental office today to schedule a consultation and find out if a mouth guard is the right choice for you.
Related to This